Oldham calls for permanent honour for Epstein in Liverpool
The original Rolling Stones manager, Andrew Loog Oldham, has called for a street in Liverpool to be named after Beatles manager Brian Epstein.  
His comments came at Liverpool Sound City, a new music and industry festival.  Andrew, who left the Stones in 1967, got his first work in the music industry by working with Epstein to publicise The Beatles.
Oldham said, "I've been walking round Liverpool and it doesn't seem right that we can't walk up Epstein Street or Brian Epstein Avenue.
"Brian did an amazing thing for Liverpool in terms of putting it on the world map.

"The Beatles and then Merseybeat conquered the world and there should be a fitting tribute to celebrate his impact.

"Music fans in the US wanted to visit Liverpool for the first time and that legacy can be seen today in the tourists who flock to the city.

"We have this Epstein Theatre and its great, but we need a more public and official tribute." 
This is, of course, something that we wholeheartedly support at Music Heritage UK and hope that this leads the council to consider ways to recognise the Fab Four's manager for his special role in changing the course of popular music.
News source: Click Liverpool
Image: front cover of ALO's recent book, Stone Free.
Record Store Day's exclusive releases
Another Record Store Day is nearly upon us and the peeps behind the event have released the list of exclusive records and CDs which will reward those queuing for hours.  
This year sees limited editions from across the music spectrum with classic acts and up and coming indie stars making the most of the marketing opportunity that the day offers.  
Bowie, McCartney and Nick Cave all release limited editions alongside the likes of Frank Turner, Everything Everything and Django Django. 
All of this is overseen by Jack White who is the official 'curator' of Record Store Day 2013.  He rereleases an anniversary edition of the White Stripes classic, Elephant in a limited edition vinyl that comes straight from his record label and indie record store, Third Man Records.
Some of this year's releases of note (from a MHUK perspective) include….
David Bowie – A double A-side 7" of 'The Stars (Are Out Tonight)'/'Where Are We Now?', a 7" picture disc reissue of his Aladdin Sane,single 'Drive-In Saturday' and his 'Bowie 1965!' EP (which collects his two singles and their B-sides as The Manish Boys and Davy Jones & The Lower Third).
Kate Bush - A 10" picture disc featuring the remix of 'Running Up that Hill' which featured at the Olympic Games opening ceremony.
Billy Bragg - 'No One Knows Nothing Anymore/ Song of the Iceberg' 7″
The Cure - 12" red vinyl reissue of 1987′s Kiss Me, Kiss Me, Kiss Me.
Jesus and Mary Chain - Incredibly limited run of classic Psychocandy released on red & black splattered vinyl.
Nick Cave & The Bad Seeds - new single, 'Animal X' on 7"
Pulp - New single 'After You', including a Soulwax remix on 12".
The Rolling Stones - Five by Five EP pressed on 7″ vinyl.
Paul Weller - Two exclusive new tracks, 'Flame Out' and 'The Olde Original', released on 7" single.
Check out the full list at the RSD website.
Of course the day is about more than just the extra-special, limited edition records… it's also about celebrating independent record shops.  With the recent news on HMV still reverberating through the music industry, now might be a nice time to celebrate the role that small independent record shops can play in helping people to discover new music.
Rock n Roll Pictogram tributes to classic acts
The NME brought this to our attention.  A series of posters which bring together a series of themed pictograms around some of our most loved musicians here at Music Heritage UK.  The brainchild of Viktor Hertz, a Swedish designer, try and see how many of the songs/albums you can identify.  
If you would like to support Hertz's work, you can do so here and you'll be sent a poster!
Record Books - your favourite album as a book
What if our favourite records were books?  Regular readers of our blog may remember this series of classic album remained as Penguin classics, but this is taking it a step further and remaining albums in a range of different styles of book.
Artist Christophe Gowans has created these collections and we've a few of our favourite Music Heritage UK related albums below.  We particularly like the Ian Dury & the Blockheads one.
We're sure you'll agree that these are, quite simply, great.  You can buy these (and many more) in postcard collections available from his website.  See more book covers on his tumblr, Record Books.
Keith Richards' recipe for Bangers & Mash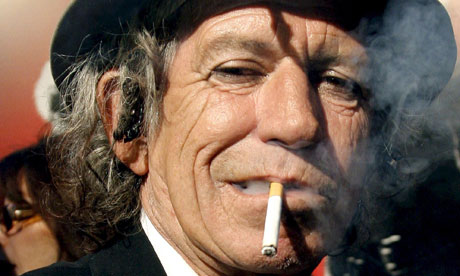 We've been a little bit slow and have only just managed to finish Keith Richards' amazing read, 'Life'.  A great book, some great stories and a star character which shines throughout.
Towards the end he tells us his recipe for Bangers and Mash.  We thought we'd share this with you.
MY RECIPE FOR BANGERS AND MASH
1. First off, find a butcher who makes his sausages fresh.
2. Fry up a mixture of onions and bacon and seasoning.
3. Get the spuds on the boil (seasoning to taste). Chuck in some peas with the spuds (throw some chopped carrots too, if you like).  Now we're talking.
4. Now, you have a choice of grilling or broiling your bangers or frying.  Throw them on low heat with the simmering bacon and onions (or in the cold pan as the TV lady said, and add the bacon and onions in a bit) and let the fuckers rock gently, turning every few minutes.
5. Mash your spuds and whatever.
6. Bangers are now fat free (as possible!)
7. Gravy if desired.
8. HP sauce, every man to his own.
Sunset Boulevard's British Invasion '74/'75
Another amazing post from the Voices of East Anglia blog. Apologies for blatantly plagiarising the idea, but it's just too good not to share these amazing pictures.
The blog showcased some of the advertising billboards on Sunset Boulevard between 1974 and 1975.  At the time Los Angeles had become the centre of the global music industry from a  financial and creative perspective.  Acts like James Taylor, the Eagles, Neil Young, and Joni Mitchell had all relocated to the area and British acts were quick to see the importance of the West Coast from a marketing perspective too.
Below are some of the amazing Billboards that graced this infamous Los Angeles strip.  Thanks to the VoEA blog and to Larry the Frog for uploading these to his flickr account!  
What we love about the photos is not only just how ridiculously oversized and over the top they are, but also the details - the houses hidden behind them, the cars which are a mix of 1970s sports cars and more classic American autos, and, of course, the blue, blue skies.
English "supergroup" Bad Company
Elton John's sold out gig…
Mott the Hoople and David Bowie close to the Roxy and the Whisky a GoGo, now infamous local music clubs
Cat Stevens' Budda inspired album…
The Who's Odds and Sods…
Donovan's Sold Out gig
Another Elton advertising his greatest hits (in the mid-70s!)…
Rod Stewart's Smiler…
George Harrison's own Dark Horse Records which released all of his music post 1976.
Eric Clapton's 461 Ocean Boulevard with fake palm tree.
Joe Cocker looks a little sad…
Ladies and Gentlemen… The Rolling Stones - their original film release, it has since been remastered and released on DVD.
Bill Wyman's questionable Monkey Grip…
Rick Wakeman's journey to the centre of the earth…
Yet another Elton John billboard with his trademark oversized glasses…
Maggie Bell, England's Number One female vocalist… (really?…)
Classic UK acts at the Super Bowl!
This weekend is the "world's largest sporting event" (according to organisers at least), Super Bowl XLVI between the New York Giants and New England Patriots.
Whether American Football's annual showcase is bigger than the World Cup final or the 100m Olympics remains to be seen, but in an era of instant entertainment on demand, it remains one of those moments in television where (nearly) everyone watches it - in America at least.
The half-time entertainment is being provided by Madonna this year, as the showcase event moves away from classic rock, to more poppy sounds.  However Super Bowl XLVI taking place on Sunday we thought that it was a great opportunity to remind ourselves of some of the performances from the UK's classic rock acts such as Paul McCartney, The Stones and The Who.  
These shows were played to television audiences of hundreds of millions - probably the biggest television show available.
Enjoy these brilliant performances below, and, to our American friends, hope you enjoy a great game. 
Paul McCartney - Super Bowl 2005
Rolling Stones - Super Bowl 2006
The Who - Super Bowl 2010
Riders on the Storm
The Smoking Gun has been sharing these documents with the web for a while, but we thought that it was well worth exploring these again.  They have made a name for themselves in revealing the demands and whims of some of Rock's greatest acts.
The documents outline what promoters need to provide to the performer, their entourage and other rules and regulations.  We've gone through them for you below to highlight some of the more interesting demands made by the creme of the UK music rock scene while on tour in the USA.
The Beatles
This original document from their tour of the USA in 1965 makes many demands on security (perhaps the influence on Macca's rider - see below), which given the state of beatlemania at the time, is understandable.  They asked for "at the very least 150 uniformed officers". In addition to this they also required a portable TV and four beds in their dressing room, and a removable roof for the stage if the concert is played outside.
However, perhaps the most famous thing to come out of this rider is the requirement that the Beatles would not perform to a segregated crowd. 
David Bowie
Compared to some of the others in this list, he's positively normal.  He eats no food (other than fruit), he makes few excessive demands.  No wonder promoters are clamouring for a David Bowie live tour soon!  
Eric Clapton
On Slowhand's 1995 tour of the USA, he made one unusual request for a games room to be set up - "We are touring our own table football table that needs to be set up in this room". 
Def Leppard
Perhaps the most interesting thing to come out of this is the amount of food required to tour Def Leppard.  There is a whole menu of food needed for the band at the show and for the band's tour bus.  Plus the additional headache for promoters in finding Vegan pastas and burgers and ensuring that their insane food demands are met. 
With all of these food requirements is it any wonder that they need the tank of the toilets cleaned three times during the day of the show?
Boy George
He wanted 24 bottles or cans of "HIGH quality" larger.  And that's just for his own dressing room and not for his entire crew… They got an extra 48 bottles or cans.
Elton John
Elton John and his entourage use "approximately 40 kilos of ice per day" on tour and want the promoters to be sure that they know this.  He also doesn't wear a lanyard (so ensure that people at the venue know who he is), and is very picky when it comes to lighting and flowers. 
Paul McCartney
Paul McCartney's 2002 tour of the USA's rider reveals his focus on security.  Dogs were meant to sweep the arena/venue for suspicious packages, a special security team was to take care of any letters, flowers or gifts that were delivered for Sir Paul, and the road to the venue was to be kept clear for six minutes before his estimated time of arrival. 
Other than that, he wanted to ensure that no animal was harmed.  So his people forbid any furniture which was made of animal skin or print - even going as far as banning any artificial versions of animal skin or print.  
We also find out that Paul McCartney is "very fond of flowers".
Ozzy Osbourne
He requires a "nose, throat and ear doctor on site" as soon as he is in the building.  This doctor "must be able to administer if required a B12 shot and decahedron (anti-inflammatory) shot", reveals the rider from his 1999 tour.
The Rolling Stones
There are a couple of riders here - the one below from 2005 and then one from 1997/8.  I do love the 2005 one though.  There are very specific instructions - this is a precision like tour with very precise demands.
Mick Jagger has an area where he warms up, the band bring "there [sic] own" snooker table on tour, there is a very specific requirement for a TV which can show the Cricket (probably quite difficult in the US) and  there are requirements for separate offices for management.
The Who
Perhaps the most interesting thing to this is the amount of drinks required to put the Who on.  There's a multitude of soft drinks and tea needed across all of the rooms in the backstage area.
To be fair though, none of these come close to the hilarity that is Iggy Pop's tour rider.  I challenge anyone to read that and not laugh.  Amazing stuff.